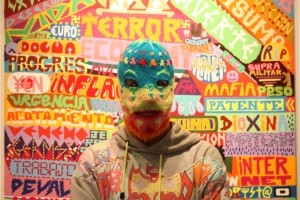 1978, Buenos Aires, Argentina. Lives and works in Barcelona.
Visual Artists. His first contact with street culture is skateboarding, and after, through graffiti. Highly influenced by Punk movement and "D.I.Y" culture, he starts as autodidact and later studies at La Llotja art school in Barcelona, obtaining a Senior Degree in Plastic Arts and Design. Active member of the graffiti scene in Barcelona since its beginning in the 90's, was also part of the Ovejas Negras (ONG) crew. Despite the group disappeared, he still collaborates with some of the former members, as well as with other international artists from various disciplines.
Zosen keeps painting often in the streets and developes mural artwork apart from giving classes and lectures on urban art and public space. His repertoire ranges from illustration, performance, video to self-edition or fashion design. He is co-founder of the clothes brand "Animal Bandido."
He takes part in international exhibitions and events, and his artwork has been showcased in galleries in Europe, Asia and America.
At OWC he will feature his new fanzine Carcelona "20 years in the best shop of the world" in the Espai Jove La Fontana.