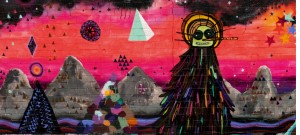 MYMO currently lives and works in Berlin. Her work has been shown throughout the world in places ranging from London, Barcelona, New York, L.A. , Australia, Amsterdam, and many more.
Her travels have a direct relationship with her artistic practice. Her influences come from Egypt and the rest of North Africa, like Pyramid shapes, Triangular and colorful patterns. These patterns trace back to her North African roots.
In some of her paintings you can see stories of the source of creation related to the endless universe and it's power. A lot of times you will find little spirits in her work who tell about their own individual story. These beings, citizens of a fantastic parallel universe, are meant to support interaction and communication in the urban context of the everyday, leading to a positive change in our world.
Life is a treasure hunt for her. What some people leave behind on the street becomes value for her. She loves to repaint things she finds on the street, and hangs these pieces as installations in her studio and creates something new with it. With a multi media attitude she don't restrict herself to any particular one. She constantly develops new possibilities of aesthetic expressions with the help of various techniques (from street and canvas painting to collage, from animation films to installations).
Mymonsters stand for her creations or creatures. It is a creation process called Mymo.
http://www.mymonstersworld.com/
Will paint at: Martinenc