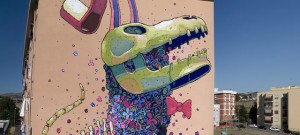 Barcelona, 1988. Last revelation of Barcelona street art, Aryz is known for the spirituality and beauty of his work. Large sizes, vibrant colors and dark themes stand out from the worn walls involved.
Influenced by surrealism and pop, the artist creates an outstanding playing style with vegetables and organic elements that ornament and invade their characters.
Their work is cover of every magazine in the sector in the last year and his murals and exhibitions multiply throughout Europe.
Will paint at:  Jardins de Caterian Albert