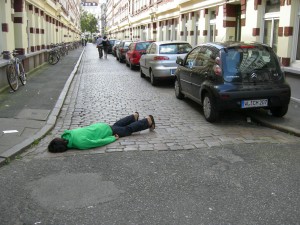 Juan Carlos Noria is a cultural activist with an awareness slashing social and political activism, Dixon is the artistic side  used to define himself as a painter and expanded, time to time, with Royal, his other executor arm and holder of a personal style.
And then, we see Juan Carlos like the artistic and ambidextrous human being which is in constant search of new subjects of representation, style, production techniques and media, an art under investigation, either in
the urban environment, illustrating books printed sheets, or in their paintings and installations.
His talent greets us through irony, comedy and archetypal imagery with articulated as latent carrier of the message in your mind and your heart (yeah, Juan Carlos paints with and from the heart!) And what he deserves and must be represented by images of a world orbiting that is common to us all and to which we often show weak if not cynical and hypocritical. Art as a duty to re-moralizing to the social and economic injustice, xenophobia, racism, power, consumer society, ecology, children, love, sex, corruptive culture and the process latent in all.
http://www.flickr.com/photos/mejuan
http://aoacollective.com/main.html
http://www.ekosystem.org/tag/dixon
Will paint at: Martinenc