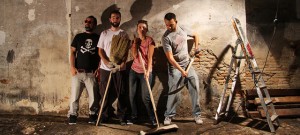 Hello to all the walkers and lovers of the streets, we are Asalto Producciones. Four thinking  heads that have been carrying out the ASALTO in Zaragoza for more than 6 years now.
The Assault is an International Festival of Urban Art held since 2005 that floods the streets of the old town of Zaragoza for several months, with avant-garde artistic projects, participatory and impressive site-specific works developed by urban artists and artistic groups from the both national and international levels.
As a concept it is an artistic experience and unique creation, as the whole creative process and its execution are performed in the city of Zaragoza, with its streets being the best workshop, the best canvas and the best gallery.
It's the perfect time to develop this project which is kept in the drawer and storming the streets, Asalto Producciones has the keys to the streets of Zaragoza.